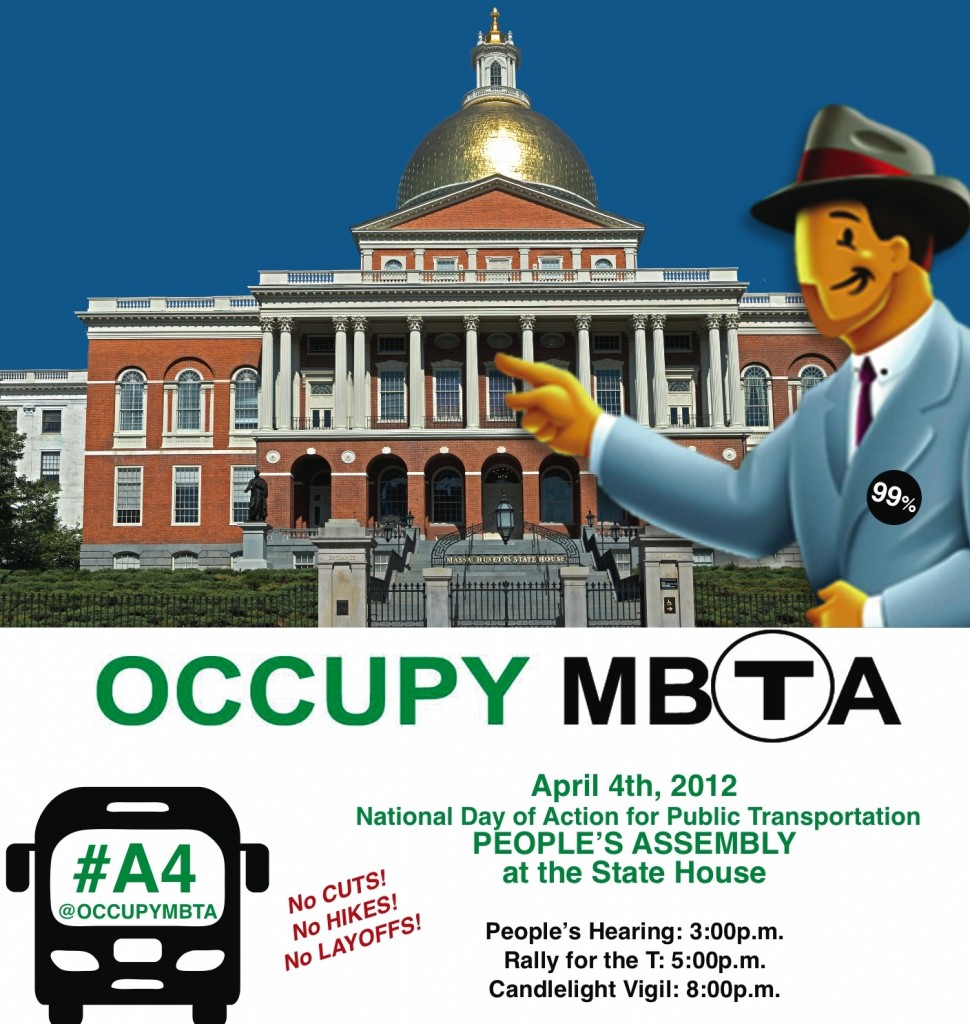 On April 4th at 3:00 PM, Occupy Boston, Occupy MBTA, and other advocates for public transportation, environmental justice, and labor will converge on the State House for a People's Assembly to demand "No Hikes! No Cuts! No Layoffs!" The Day of Action will include a People's Hearing inside the State House at 3:00 PM, a rally outside at 5:00 PM, and at 8:00 PM a remembrance of Dr. Martin Luther King, Jr. on the 44th anniversary of his assassination.
"A good public transportation system works to reduce the effects of economic inequality by providing affordable access to work, school, and medical care," said Ariel Oshinsky, an organizer for Occupy Boston.  "But the MBTA is attempting to do the opposite by balancing its books on the backs of those who can afford it the least. In the MBTA's current proposal, four of the five biggest fare increases will fall on seniors and riders with disabilities, and communities that are already marginalized will be further isolated by the fare hikes and service cuts."
Occupy MBTA's People's Assembly will be a direct response to the 31 public hearings hosted by the MBTA on its proposals to slash service and raise fairs. The MBTA claims to incorporated feedback from those hearings into its most recent proposal, but the evidence suggests otherwise. For example, MBTA officials claim there is public support for raising fares, but only 2.5% of public meeting comments supported fare hikes.  In addition, MBTA officials have refused to explore many of the solutions that would have allowed the agency to balance its books without fare hikes or service cuts — including, but not limited to, canceling its interest rate swaps with Deutsche Bank, U.S. Bancorp (UBS), and JPMorgan Chase.
"The MBTA's austerity measures should be aimed at Wall Street banks, not the T-riding 99%," said Tyson Hawk of Occupy Boston.  "We're coming to the State House to make sure our voices are heard – to present our own solutions and to exercise a "people's veto" over the MBTA's disastrous plan."
With public transit under attack across the nation, the Occupy Boston General Assembly passed a Call to Action on March 3, 2012, which called on "occupations, general assemblies and people's movements across the country and around the globe to mobilize on April 4th, 2012 to demand public transportation for the 99%."  Events are planned on April 4th in more than twenty-five cities, including Chicago, Detroit, Pittsburgh, Portland, Denver, Los Angeles and Seattle. The Amalgamated Transit Union, the largest labor organization representing transit workers in the US and Canada, has pledged its support for the April 4th National Day of Action for Public Transportation.
"People across the country are participating in this Day of Action because our priorities are not reflected in the politicians' budgets," said Noah McKenna of Occupy JP. "We say 'no' to endless wars of choice and propping up Wall Street against the weight of its own fraud.  And 'yes' to comprehensive, affordable and sustainable transportation plans that work for the 99%."
At 8:00 PM on the steps of the State House, Occupy Boston's People of Color Working Group will lead a vigil for Dr. King.  April 4this the anniversary of Dr. King's historic 1967 speech linking poverty and war and then his assassination exactly one year later.  Dr. King was a staunch advocate of public transportation, who stood for prioritizing social needs ahead of corporate profit margins and militarism and once wrote:
Urban transit systems in most American cities, for example, have become a genuine civil rights issue—and a valid one—because the layout of rapid-transit systems determines the accessibility of jobs to the Black community. If transportation systems in American cities could be laid out so as to provide an opportunity for poor people to get to meaningful employment, then they could begin to move into the mainstream of American life.
Occupy Boston will be observing this day and remembering a great visionary by continuing Dr. King's fight against economic inequality.
National Day of Action for Public Transportation
People's Assembly – State House
3pm: People's Hearing
5pm: Rally to Save the T
8pm: MLK Remembrance
For more information, visit http://occupymbta.org/a4/
Twitter hashtag: #A4bos