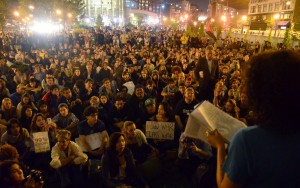 Agenda Items for Upcoming General Assemblies (in addition to regular announcements and proposals):
Saturday, April 28, 2012, General Assembly at Community Church of Boston, 5:00-8:30 PM
565 Boylston Street, 2nd Floor
Proposals:
1. Presented by Justin A.
Need:
Coalescing around values, tactics, strategies and goals
Proposal:
To use the new decision making process to discuss a list of tactics, goals, critiques, demands and values.
Principles/Values
We are a movement rooted in the principles of horizontal democracy, mutual aid, egalitarianism, anti-oppression, and direct action.
We feel a duty to exercise our rights of free speech and assembly to demand the implementation of the will of the people and alteration of our governing structures so that such a circumstance will not arise in the future.
Goals
We seek to create a society in which the needs of all come before the profits of the few.
we believe in a fundamentally different society, This is not Utopian. It is realistic and evidence based.
This movement tries to unite "the 99%" who feel that this is wrong, and to create a society of the 100% where people have control over their own lives.
Leadership/Process
Our movement is without a formal leadership structure in order to foster an environment where individuals can act as leaders when they are best prepared to do so, and so that we do not reproduce the power inequalities that plague our society.
Assertions
We believe that Democracy can only exist in a society where importance of equality, access to information and education, and unrestricted freedom of speech and expression are prioritized.
We reject the idea that violence is just rocks and bullets; it is also an affliction that is expressed in language and institutions that fail to consider the dignity of human life.
Knowledge is our most valuable commons…
Our systems of governance and economics have lead to a situation in which the lives of the multitudes are controlled by an elite few. In an unequal society such as ours where wealth is equal to political speech, the interests of the wealthy few will drown out the concerns of the people and monopolize the power of the state.
It is known to us that the history of progress, with respect to governance, is measured in degrees from despotism toward horizontal participatory democracy.
We believe that the most pragmatic means of removing the systemic corruption from our republican structure is to allow for more voices to be heard and accounted for in decision making processes throughout all levels of society.
Criticisms
Our government, as shown by the forceful repression of peaceful protesters across the country, has lost track of the meaning of free speech.
Capitalism leads to the concentration of wealth over generations and the creation of an entrenched ruling class and a permanent underclass.
The extension of personhood to corporations magnifies these wealth inequalities and further subjugates the will of the people.
 The ideal of Democracy, for practical reasons, has been diluted to accommodate the expediency with which a nation state must govern to be effective, however this expediency is gained at the cost of potential corruption.
In our own republic the ruling political class has become ineffective at implementing the will of the people, and at worst has become a lever, a mere tool, for the ruling capitalist class to guide the mechanisms of social progress to benefit the elite at a disproportionate level.
Tactics
This collusion has driven us and many, many, more into the streets to exercise our right to free speech and assembly in order to express our dissatisfaction with this situation.
Occupy Boston does not seek to harm anyone, but in fact works to bring an end to systems of structural violence that harm us all. We will pursue this with whatever means are effective and accessible to us.
We will continue to exercise our right to demand alteration of the corrupt and coercive structures which hold great power over the circumstance of our lives until those representatives who are in a position of power have regained the trust that is needed in their attempts to govern in good faith and on behalf of those whom they represent.
Demands
We demand, by the rights granted to us as citizens and by the recognition that it is from our hands which the power to govern is granted, movement toward the ideal of horizontal participatory democracy throughout all governing structures in all levels of our society. So let it be known that we demand democracy for ourselves and the liberation of all human beings, and we do not consent to the power granted to those who govern us now.
Proposals Passed at the Previous  General Assembly (Thursday, April 26, 2012)
1.  To create a consent bucket, which is a list of proposals that can be considered to address subjects around which a broad consensus can be reached.  Proposals would be grouped together in a bucket or package.  Initially all new proposals would be introduced as items in the "consent bucket."  There would be no discussion about the proposals themselves beyond clarifying questions.  If any member felt that any proposal or proposals required discussion, it would be pulled out of the "bucket" and considered as part of the regular proposal process.  Members of the assembly should feel comfortable in expressing reservations about any part of the "consent bucket" and request assistance from fellow members if necessary.  The remaining items in the "consent bucket" would be adopted by unanimous vote.  The "consent bucket" would be considered after announcements and before the agenda.  If adopted this proposal will be implemented immediately.
Presented Michael O.
 2.  A $200 donation for the May First Coalition.
Presented by David L. of Outreach Working Group
3.  That 90 minutes of General Assembly time on Saturday, May 12, 2012, should be used for a presentation to develop a common level of knowledge about the current financial crisis and what the practical alternatives.  The presenters will be Gary Epstein, Professor of Economics at UMass Amherst, and Jim Campen Professor of Economics at UMass Boston.
Presented by Ridgely F.
4.  OJP proposes moving the Occupy Boston General Assembly scheduled for May 5 to the Southwest Corridor Park, location of the Wake Up the Earth Festival. Aria will get an exact location to Facilitators and as many email lists as possible within the next two days. If WUTE is rescheduled to May 6 because of rain–pending approval by SAA–SAA will move to WUTE. GA will discuss details and a topic during the regular meetings between now and May 5.
Presented by Aria L. of the Occupy Jamaica Plain Working Group
5.  The InReach Working Group proposes to purchase a 1-inch button machine with parts for 2,000 buttons ($632) and reimburse members of InReach for expenses from the Open House ($64.27).  The $397.71 that is left from the Info Tent proposal will go to this purchase, meaning an additional sum of $298.56 will be allocated.  The machine will be the 1-inch button maker purchased in November by bil Lewis along with remaining parts from the 2000 purchased at that time.
Presented by Bil L. of InReach working Group
General Assembly Schedule
Saturday, April 28, 2012 at the Community Church Boston, 565 Boylston Street, 2nd floor, 5:00-8:30PM
Tuesday, May 1, 2012, CANCELLED for May Day Actions.
Thursday, May 3, 2012, at the Boston Common Soldiers and Sailors Monument Hill, 7:00-10:30PM.
Saturday, May 5, 2012, at the Wake Up The Earth Festival in Jamaica Plain at Southwest Corridor Park, 5:00PM
The General Assembly (GA) is the main decision-making body of Occupy Boston. We discuss issues, make announcements, and consider proposals. General Assemblies happen at 7pm Tuesdays and Thursdays, and 5pm on Saturdays. These meetings are open to the public. Newcomers are welcome.
Links: