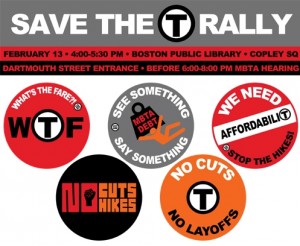 On Monday, February 13, 2012, activists from Occupy Boston and other local Occupations will ride their respective train lines and converge on Copley Square for a mass rally at 4:30 PM to Save the T.  At the rally, Occupiers and advocates for Boston's working-class, seniors, students and  environmental justice will demand "No Service Cuts!" and "No Fare Hikes!" After the rally, demonstrators will attend a public hearing sponsored by the MBTA and voice their concerns directly to agency representatives.
The public transit system that the 99% relies on has been underfunded by the Massachusetts Legislature for years, and is now threatened with staggering debt – much of it transferred to the MBTA from Big Dig projects. Currently, every penny of our fares is spent paying off this debt – not on the maintenance we need to keep an aging system in working order.  Meanwhile, the big bailed-out banks have exploited the MBTA's financial situation, raking in untold millions of dollars by underwriting the MTBA's bonds and profiting off of interest rate swaps with the agency.  Despite the dire situation, the MBTA's two proposals would do nothing to shore up the long-term sustainability of the T while devastating local communities by raising fares and slashing services.
"The proposed MBTA service cuts and fare hikes are the perfect way to appease elected officials and their corporate partners by draining the remaining resources of the 99%," said Brett West, an organizer for Occupy Boston. "For us, affordable and accessible public transit is a necessity, not a luxury.  We say 'none of the above' to the MBTA's so-called solutions and demand a permanent funding solution that does not attack the resources of Boston's elderly, students or working-class people."

Monday's Day of Action will offer activists a number of ways to have their voices heard.  Several local Occupations and community groups will ride their respective trains and buses to the rally and engage other riders about the cuts and hikes through live streaming, flyering, mic-checking, singing, and conversation.  Confirmed meeting times are as follows:
Occupy Boston will meet at Downtown Crossing at 3:00 PM (contact brett@occupyboston.org for more info.)
Occupy Somerville will ride the rails in from Davis Square at both 4:00 PM and 5:00 PM (occupysomerville@yahoo.com).
Occupy Dorchester will meet at Fields Corner at 3:45 PM.
Occupy Quincy will be leaving at the Quincy Center T station at 3:30 PM (brykoulouris@gmail.com).
 Occupy JP and Occupemos El Barrio are planning similar actions; check back here or contact your local Occupy for meeting times and locations.
Students Against the T Cuts will meet at the Boylston T Stop at 4:00 PM (media@studentsagainsttcuts.org).
At Copley, the Occupiers will join the T Riders Union and a coalition of dozens of community, student, senior and environmental groups for a rally to say "No!" to the MBTA's draconian proposals of service cuts and fare increases and demand that the Legislature fund a transit system that benefits everyone.  At 6:00 PM, the rally moves indoors for the MBTA's public hearing.
Whether you can make one or all of the above actions, we need you on Monday. The T is a lifeline for our communities and vital for building a strong, sustainable economy. A strong public transit system is a linchpin of a society that prioritizes the needs of all before the profits of a few. Join us!