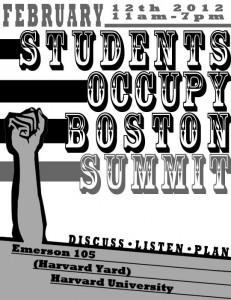 On Sunday, February 12, 2012 at 12:00 PM, students from more than twenty campuses across  New England will gather at Harvard University for the first Occupy Boston Student Summit.  The Summit, which will be held at Emerson 105 in Harvard Yard, will bring together a diverse array of students to strengthen relationships and exchange ideas among those who have been or want to be involved with the Occupy movement.  All students, whether officially enrolled anywhere or not, are encouraged to attend.
Occupy Boston has provided student activists from varying backgrounds the opportunity to meet and work with others who wish to unite to reform both our political and economic systems.  The Student Summit will offer participants a chance to delve deeper into issues that affect student occupiers, including systemic oppression within the occupy movement, the roots of education inequality, the history of radical student movements, and the organizational future of Occupy Boston Students.  The summit will also include a session on how student loan debt is used to enrich banks and needed systemic changes — including forgiveness — to the student loan structure.
Whether you're a seasoned Occupy veteran or just curious about the movement, please join us at the summit on Sunday!
For more information, please visit: http://www.facebook.com/events/374522779228867/.  The agenda for the summit is available here.  http://www.facebook.com/photo.php?fbid=2722240691032&set=o.159369867486219&type=1&theater