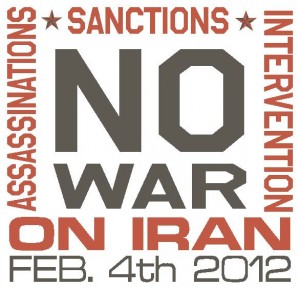 On Saturday, February 4, The Action for Peace Working Group of Occupy Boston will co-sponsor a rally and march as part of an international day of action to demand NO WAR ON IRAN.  The march, which begins at Park Street Station at 1:00pm, will include a visit to the Israeli Consulate and will end with a rally at Copley Square.  Saturday's Boston action is one of fifty-five demonstrations taking place in the United States and in six countries to demand, "No War! No Sanctions! No Assassinations! No Intervention!"  All members of the 99% who want peace, not war, are encouraged to attend.
"The United States is now following the same path of aggression with Iran as it did with Iraq – using the false pretext of WMDs to start a war whose real goal is control of oil by the 1%," said Marilyn Levin, a member of the Action for Peace Working Group.  "The costs of war – in lives and to the economy — are staggering."
The United States went to war in Iraq after twelve years of crippling sanctions using the fabricated claim that Iraq possessed weapons of mass destruction.  The costs of that war were devastating:  thousands of lives, trillions of dollars, and the destruction of a country that posed no threat to the United States.  The war also unleashed a decade of endless war with a massive war budget, cutbacks on social services, and attacks on our Bill of Rights.
The campaign of demonization against Iran – including brutal sanctions and threats of war from Israel and the United States – mirrors the run-up to the war on Iraq.  This time, the false claim is that Iran is developing nuclear weapons when there is absolutely no evidence that Iran is doing anything but developing nuclear power, a legal act that poses no threat to other nations.  Once again, we are seeing the 1% threatening to start a horrible war to dominate the flow of oil from that region.
Added Levin, "To prevent that disastrous history from repeating itself, we need the voices of the 99%. Join us on February 4."

The march and rally are co-sponsored endorsed by many peace and justice organizations in the Boston area, including Boston United National Antiwar Coalition, United for Justice with Peace Coalition, International Action Center, and Dorchester People for Peace.  For more information, please visit http://www.facebook.com/events/214341975322807/.