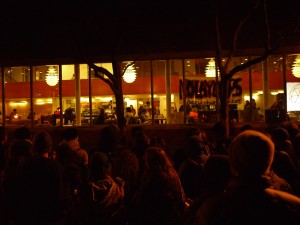 The following communiqué comes from our sisters and brothers at Occupy Harvard. Today they began a one-week, 24-hour occupation of Lamont Café—part of Harvard University's Lamont Library, which is located in Harvard Yard. You can read the original post here. For more information, check out Occupy Harvard's press release. Finally, you can support Occupy Harvard by making a donation. Solidarity!
Harvard's Lamont Library is Occupied

Dear Friends and Community Members,

Lamont Café is occupied.

We intend for it to remain occupied until Friday at 10 pm.

At a time when Harvard University is restructuring the library, we are working to change what a library is understood to be. Take a break. Think. The New Harvard Library Working Group of Occupy Harvard has opened a persistent community space for critical thought, engaged learning, and insistent action in the Lamont Library Café.

We invite you to join us as we engage in communal tasks of producing knowledge (skill-shares, tutoring, and, yes, we will read your paper drafts), meet for morning coffee and conversation, and host twice-daily "Think Tanks"—topical discussions in which participants enter as equals and where professors, students, and workers converse as peers. Our current schedule is included below, but check-in frequently as new events and opportunities will be taking shape as the days progress.

Why now? Why Lamont? The Harvard Library transition is a simulacrum of the University's accession to neoliberal imperatives. Occupy, whether at Harvard or Wall Street, challenges and refuses the devastating willingness of our broken society to view humans as expendable resources and systems as ultimately beholden to profit. A library needs the workers who are its lifeblood, just as a functioning democratic society needs the voices of the 99%. The proposed library transition not only fails to address these systemic problems, it replicates them—both in terms of business practice and the production of scholarship and knowledge.

As members of the Harvard community, we are committed to occupying the spaces of our education with integrity and intentionality. Lamont Library Café is an educational space specifically vested to facilitate the learning ideals of the University. We are doing no more and no less than striving to fulfill the promise of this space.

Thank you for your engagement, your solidarity, and your support as we live into the possibilities of a new Harvard Library together.

Take a break. Think.

New Harvard Library Working Group
Occupy Harvard
For the schedule of events at occupied Lamont Library, click here.