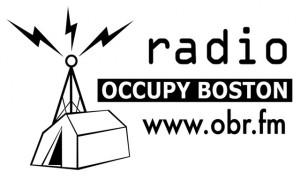 #OBRadio is On The Air! Producing & serving up top notch free/libre content. #occupy #occupyboston #ows #indymedia
OBradio needs your help!
We are in the process of changes, and need your assistance. OBradio is an internet radio station that was started 8 months ago by members of Occupy Boston in an effort to broadcast the voice of the 99 percent, broadcasting the injustices of the world, and sharing collective information on the struggles and success' of the movement. In the past 8 months OBradio has gone from simply broadcasting on the spot interviews with occupiers from Dewey Square and General Assemblies, to producing 12 original show's on a weekly basis.
The facility in which we broadcast from is called E5, or rather Encuentro Cinco. E5 houses 20+ organizations that are all oriented toward the advancement of liberties of all people. E5 was instrumental in providing a space for meetings, organization, educational conferences, and media development for Occupy Boston from the very beginning. OBRadio  moved into E5 in February building out a studio from which we broadcast from today.
E5 recently was informed that it's space at 33 harrison, in Chinatown, would no longer be available for it to rent, and as a result OBradio, and the rest of the organizations at E5 must move at the end of July 2012. E5 is in the process of acquiring another space that will accommodate the organizations that utilize the space at 33 Harrison. Continue reading "Friday on <a href="http://www.occupyboston.org/radio/" target="_blank">OBR.fm</a>" »