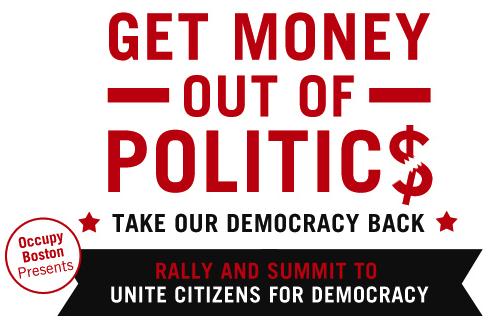 On the January 20–21, the anniversary of the Citizens United decision, Occupy Boston will stand with a wide coalition of groups for GETTING MONEY OUT OF POLITICS, two days of events and rallies.
On Friday, January 20th
12:30-2:00 PM – Move to Amend's "Occupy the Courts" rally and Operation Woof at the Federal Courthouse at 1 Court House Way in Boston, MA. Operation Woof encourages dog owners to bring their dogs to protest and international superstar Snoopy has endorsed Dogs Against Corporate Personhood's participation in Move to Amend's "Occupy The Courts" rally.
4:00PM-8:00PM Citizens United Working Group of Occupy Boston on will host "Rally and Summit to Unite Citizens for Democracy" at St. Paul's Cathedral, 138 Tremont Street in Boston
On Saturday, January 21st
10:00AM-4:00PM – day two of "Rally and Summit to Unite Citizens for Democracy" at Suffolk University in Donahue Hall, 41 Temple Street in Boston.
These events are designed to educate participants on the complex issues of money in politics and explore and engage in solutions to this problem.
"Whether you identify with Occupy because of housing, jobs, health care, the environment or because of any of the other myriad of problems facing this country," said Heleni Thayre, an organizer of the event and a member of the Citizens United Working Group, "They are all just a symptom of a greater problem—the excessive influence of money on public policy, elections and the law."
Speakers for Friday and Saturday include: Senator Jamie Eldridge and Representative Cory Atkins, both sponsors of a resolution in the State House to overturn Citizens United; John Bonifaz, co-founder of Free Speech for People; Julius Levine, BU Law Professor Emeritus and Clean Elections activist; Donna Palermino, a Civil Liberties professor at Suffolk University and writer for Fire Dog Lake; Pam Wilmot, MA State Director for Common Cause; Grace Ross, former gubernatorial candidate and founder of Massachusetts Alliance Against Predatory Lending; Melia Lazu, MIT professor and co-founder of MassVote.
Speakers will examine the complex issue of corporate personhood and how special interest money negatively impacts democracy.  Some of the solutions that will be presented and discussed are; state and local resolutions calling for a constitutional amendment to overturn Citizens United, consumer strategies to target the worst offenders, clean elections, running citizen candidates and citizens lobbying training.
All events are free and all are welcome to attend. For more information about this event, please email citizensunited@occupyboston.org or visit http://www.campaignfinancereform.us/take-action/rally-summit for full schedule of events.