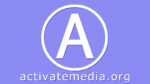 Activate Radio stands in solidarity with the UAW and Writers Guild of America (WGA) in their fight for a fair and equitable contract. We believe that all workers deserve to be compensated fairly for their work, to have a say in the decisions that affect their lives, and to work in a safe and healthy environment.
We are deeply inspired by the courage and determination of the UAW and WGA members who are striking to achieve these goals. They are fighting for the future of their industries, and for the rights of all workers.
The UAW and WGA strikes remind us that even in the most prosperous industries, workers are often exploited and undervalued. The UAW members are fighting for fair wages, benefits, and working conditions, while the WGA members are fighting for fair compensation for their work and a greater say in the creative process.
We know that striking is not an easy decision, but it is sometimes the only way to achieve meaningful change. We stand with the UAW and WGA members on the picket line, and we will continue to support them until they achieve their victory.
We are particularly concerned about the impact of the strike on writers of color and other marginalized groups. These writers are often underpaid and underrepresented in the media industry. The WGA strike is an opportunity to address these inequities and create a more just and equitable industry for all writers.
We urge the studios to come to the table and negotiate a contract that is fair to all workers. The UAW and WGA members are essential to the success of their industries, and they deserve to be treated with respect and dignity.
Call to action
We encourage our listeners to show their support for the UAW and WGA members by:
Signing the UAW and WGA strike petitions
Donating to the UAW and WGA Strike Funds
Boycotting the products and services of companies that are not willing to negotiate fair contracts with their workers
Together, we can make a difference and help the UAW and WGA members achieve their goals.