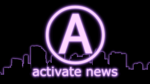 Activate News for Tuesday, August 15th, 2023
Activate News is your independent source for news, free from the influence of corporations. We're an all-volunteer radio station that originated at Occupy Boston, and we're committed to bringing you the news that matters.
Here are some of the stories we're covering today:
Trump Indicted on State Charges in Georgia
UAW President Calls on Biden to Ensure Fair Wages and Conditions for EV Workers
MassHealth Data Breach Impacts Over 134,000 Individuals
EVENTS
Tune in at the top of the hour on Activate Radio to hear the latest from Activate News. You can find us online at activatemedia.org.
We hope you'll join us!