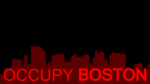 We set out to celebrate our 10th Anniversary, not just patting each other on the back saying weren't we great 10 years ago. We wanted to do something that would also affect a positive change in the community. Shining light on the need to change the name of Faneuil Hall, or at the least letting the people decide instead of Marty Walsh. We also wanted to bridge some divides in our own community. Overall we were successful.
BPD brought the cavalry, with helicopters and all. They not only brought hundreds of police officers, but had bike cops in reserve behind Quincy Market, a contingent of Park Rangers nearby and all parcels of the Greenway well guarded. Maybe they were feeling a little nostalgic as well. We have to compliment them on their effort to present a diverse front. We saw more female and POC police officers that day than we thought were on the force. Although they would not allow anyone to stay the night, and the public was prevented full use of the park, police did not harass anyone and were generally pretty friendly. We even saw one of them dancing when Keytar Bear was playing.
Nobody was hurt, there were no arrests, nothing was damaged. There were two tickets given. One for an inspection sticker and the other a parking ticket. We gave food and bottled water to many and were able to outreach to more. We had entertainment from Keytar Bear, BABAM and Eddie Emerson. And we had a Great Time!
We appreciate the participation of Boston Police, they helped shine a brighter light on the issue of Changing The Name of Faneuil Hall. No matter how many people might have shown up at Faneuil Hall, or spent the night there, it just wouldn't have had the same impact without them.
We also appreciate the help of Kevin Peterson and New Democracy Coalition, Green Rainbow Party of Massachusetts, Massachusetts Peace Action and Boston Mayday Coalition. There were also quite a few individuals who did all kinds of things to help make this happen.
We Thank All who attended and participated. It's the idea that a better world is possible that allows us to gather to make positive social change and to heal our communities.