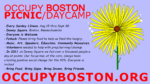 This weekend will mark the first Occupy Boston Activities in a long while. Sunday, August 15th, Occupy Boston is having a Picnic/DayCamp that begins at 12PM ET and will continue every Sunday through September 30th, the 10th Anniversary of Occupy Boston.
Planning has been underway for the 10th Anniversary which is taking place September 30th. The Occupy Boston members planning, decided to get boots on the ground ASAP and wanted to do something creating positive social change in the process of getting reacquainted with our comrades, allies and Dewey Square. Planning has also begun at Occupy Wall Street and Occupy LA and a few others. There is a massive GA that Occupy Wall Street is planning on September 17th, the 10th Anniversary of OWS in Zuccotti Park. Occupy Boston and other Occupy's will hold a GA at the same time. Occupy Boston will also hold another GA on September 30th where we will plan our next steps.
We INVITE EVERYONE to come out to Dewey Square and Join Us this Sunday August 15th, 2021. This is just the begining of what will hopefully usher in changes we've all so long waited for. If you're tired of waiting and are ready to do something, come on down to Dewey this Sunday at 12 noon. Yes, we are getting the band back together! We're reorganizing Working Groups Now.
The Sunday Picnic/DayCamp is a community driven event that will hopefully bring together community resources to help those in need. The Food portion of the event is 'Potluck', and we ask that people bring food and help us make sure everyone is fed! As the weeks go, more speakers, musicians, artists, organization spotlights and additional Actions will be added to the days events.
If you are reading this, you know a better world is possible. El pueblo unido jamás será vencido. Join Us!
Solidarity