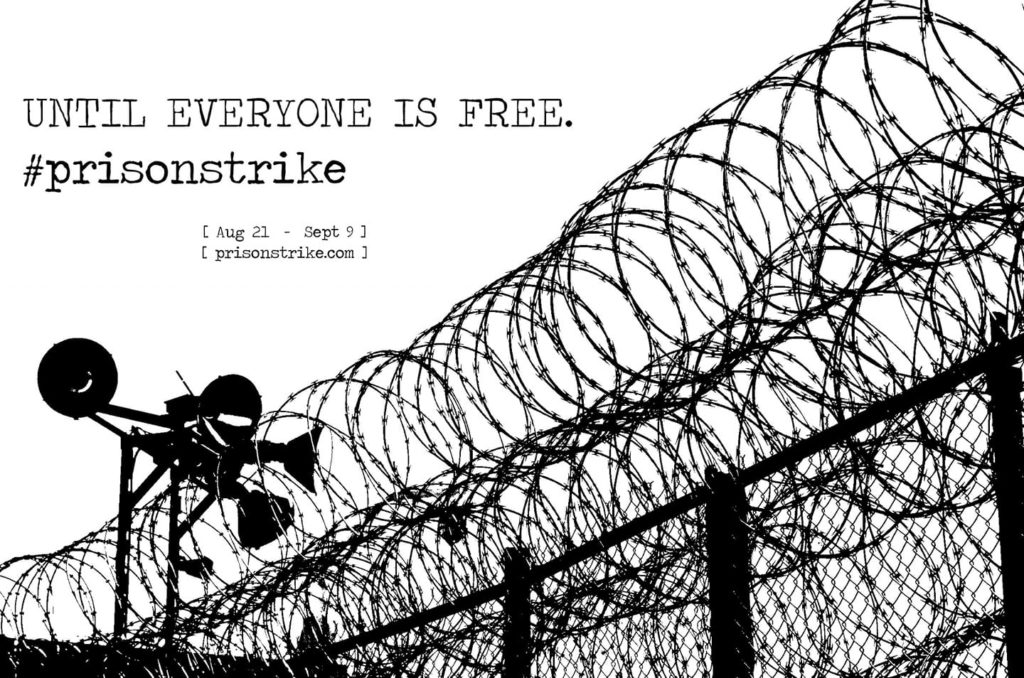 Nationwide, prisoners are going on strike from August 21-September 9, and we will rally in solidarity with them! We also choose the 23rd of this month to spotlight the 23 hours per day many prisoners spend in solitary confinement
We take this moment to build toward abolition and an end to the atrocities our people inside face.
Read endorsements at: deeperthanwater.org/strike
RALLY
Thursday, August 23, 7-8 pm
Suffolk County Jail – on Nashua St (NOT SOUTH BAY)
*nearest T stop: Science Park
Meet by the parking lot at 125 Nashua St
We will amplify the voices of our loved ones inside and send our love to those held captive at the Nashua St jail.
Our coalition is just over 1 year old, and like the prisoner organizers of this strike, our supporters and organizers inside have been subjected to torturous and punitive solitary confinement, re-incarceration, harassment, and more.
We are accepting endorsements for this action! Endorsing means:
– your organization must accept the national strike demands (below) + call for the total end of solitary confinement in any circumstance
– committing to turn out 4-10 (or 100, or 1000…) of your members
– share this event on your email, social media, etc lists
To endorse email: deeperthanwater@protonmail.com
Coalition members:
Black Lives Matter Boston
Black and Pink
SURJ Boston – Showing Up for Racial Justice
Toxics Action Center
PSL Boston – Party for Socialism and Liberation
Young Abolitionists
individual current and formerly incarcerated organizers
Endorsing organizations:
National Lawyers Guild – Massachusetts Chapter
Boston Democratic Socialists of America
FIRE Boston
Workers World Party-Boston
Jericho Movement: Boston Branch
Harvard TPS Coalition
Jewish Voice for Peace Boston
Free Siham
Harvard National Lawyers Guild
Boston Liberation Health
Boston May Day Coalition
—-
Full Strike Demands (http://sawarimi.org/national-prison-strike)
These are the NATIONAL DEMANDS of the men and women in federal, immigration, and state prisons:
1. Immediate improvements to the conditions of prisons and prison policies that recognize the humanity of imprisoned men and women.
2. An immediate end to prison slavery. All persons imprisoned in any place of detention under United States jurisdiction must be paid the prevailing wage in their state or territory for their labor.
3. The Prison Litigation Reform Act must be rescinded, allowing imprisoned humans a proper channel to address grievances and violations of their rights.
4. The Truth in Sentencing Act and the Sentencing Reform Act must be rescinded so that imprisoned humans have a possibility of rehabilitation and parole. No human shall be sentenced to Death by Incarceration or serve any sentence without the possibility of parole.
5. An immediate end to the racial overcharging, over-sentencing, and parole denials of Black and brown humans. Black humans shall no longer be denied parole because the victim of the crime was white, which is a particular problem in southern states.
6. An immediate end to racist gang enhancement laws targeting Black and brown humans.
7. No imprisoned human shall be denied access to rehabilitation programs at their place of detention because of their label as a violent offender.
8. State prisons must be funded specifically to offer more rehabilitation services.
9. Pell grants must be reinstated in all US states and territories.
10. The voting rights of all confined citizens serving prison sentences, pretrial detainees, and so-called "ex-felons" must be counted. Representation is demanded. All voices count!