RESIST THE WEST ROXBURY PIPELINE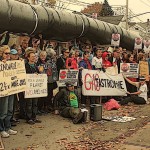 Spring is not too far away and the specter of the West Roxbury fracked gas pipeline resuming construction awaits April 15.
They'll be starting. We'll be stopping.
An open invitation to all to join us for our first of many Civil Disobedience (CD) trainings to stop the West Roxbury Pipeline.
The first training of the spring will be on:
Saturday March 5, 3:00-5:30pm
Theodore Parker Church, 1859 Centre St, West Roxbury, MA
The training will cover:
– A background on the resistance to a 750 pounds per sq inch pipeline coming into W. Roxbury passing by an active blasting quarry. Opposed by community residents, city councilors, mayor Walsh and YOU.
-Information/experiential practice about CD and supporting others to do CD.
-Legal and practical information about CD
– Forming action/affinity groups with CD and support people
-Input into the spring strategy for actions
Come help draw the line on fracked gas and neighborhood safety.
More trainings and sessions to follow.
To sign up or for more information go to http://www.resistthepipeline.org/