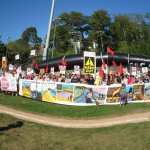 Saturday, November 7
9:00am         
5500 Washington St. West Roxbury, MA 01232
Spectra corporation is ripping up the streets of West Roxbury to put in a fracked "natural" gas pipeline through a residential neighborhood and by a live blasting quarry, putting residents and the climate at risk, all just to make a profit. Next Saturday we're taking our streets back and saying "NO" to this dangerous project and "NO" to new fossil fuel infrastructure! Join us at the construction site. Come for the rally, the song, the speakers, the joy, the solidarity, the movement, the march and more. Yes, there is even more. You can't stop mass resistance.
More info:
http://www.resistthepipeline.org
https://www.facebook.com/resistthepipeline?fref=ts