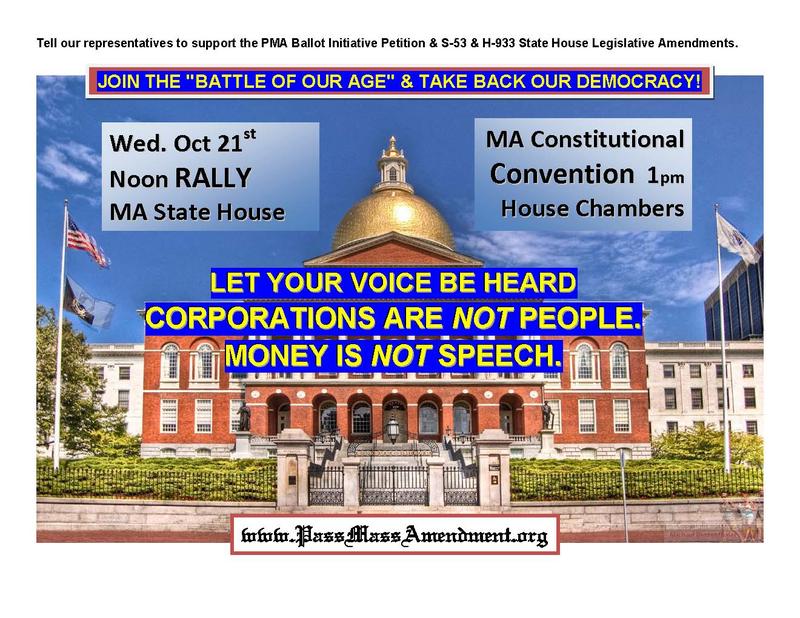 PassMassAmendment [PMA] and its supporters will be in front of the State House at Noon on Wed. October 21st, an hour before the 1pm State Constitutional Convention, a joint session in the House Chambers.
PassMassAmendment is urging residents of the Commonwealth and their elected representatives on Beacon Hill to actively support two Bills in the Massachusetts Legislature which are based on the PassMassAmendment ballot initiative. Like the PMA citizen's initiative, these bills also propose to amend the State Constitution relative to corporate rights and political spending. Both S.53 and H.933 declare "Corporations Are Not People, and may be regulated. Money Is Not Speech, and may be regulated."
The MA Legislature has the power to amend the State Constitution without a citizens' initiative petition; but the People of the Commonwealth must put pressure on their representatives and push them to take up this critical issue. Many voters are frustrated with politics and feel powerless to effect change. The two days of action have been scheduled to encourage individuals to voice their concern for the status quo and empower them to ask for an electoral process which more fairly represents all constituents. PMA believes that the many voices of ordinary people have the power to make democracy work for the common good, and lead the Nation to salvage what remains of its representative democracy; therefore, PMA is pursuing this two-pronged approach.
https://www.facebook.com/events/449930728548577
Further information/questions about this ballot initiative may be addressed to: info "at" passmassamendment.org.