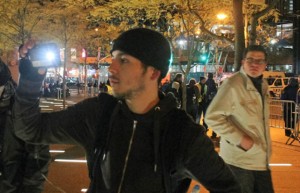 Have you ever wanted to help broadcast or produce for the Occupy Boston livestream team? Yes? Well have I got good news for you!
LIVESTREAM TRAINING
Saturday, March 3
3:00-5:00PM
Encuentro 5 (33 Harrison Ave., 5th floor, Boston, MA)
We will be teaching people how to livestream from their phones or computers, and how they can help produce the livestream channel.
The truth is we really need help. We need more people with the skills to broadcast live video, (and most importantly) produce live video. Right now only three people know how to produce! Let's change that.

——-
QUESTIONS YOU MIGHT HAVE:
I live far away from Boston and can rarely attend events? What's the point?
YOU ARE EXACTLY WHO WE'RE LOOKING FOR. Seriously. We need people who can help produce the live broadcasts. The way it works is that we have multiple people on the ground livestreaming off their phones, and usually one person at home pulling in the mobile feeds into one channel. That person could be you. We need more people like you. =)
What if I don't have a smartphone? Can I still livestream?
The short answer is yes. We have equipment we can loan — albeit on a limited, case-by-case basis. Phone or not, we still need people who can produce from the media computer at e5 (or their homes), which would be a huge asset for the team.
Does it cost money to livestream?
If you don't have an unlimited data plan, Occupy Boston can loan a CLEAR 4G WiMax Hotspot, which is unlimited. If we're unable to loan the hotspot, the cost could be free but it depends on your data plan. If you don't have a data plan with more than 2GBs / month, I wouldn't recommend livestreaming off of your phone without connecting to an Occupy Boston hotspot. Signing up from Ustream, (the service we recommend for mobile steaming), is free.