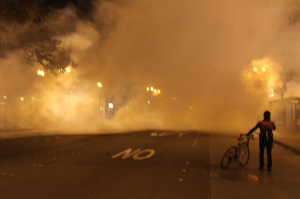 Yesterday, Occupy Oakland moved to convert a vacant building into a community center
to provide education, medical, and housing services for the 99%. Police responded with tear gas, rubber bullets, beanbag rounds and mass arrests. The State has compounded its policy of callous indifference with a ruthless display of violent repression.
The Occupy movement will respond, as we have always responded: With an overwhelming show of collective resistance.
Today, we take to the streets.
Across the country, we will demonstrate our resolve to overcome repression and to continue to build a better world grounded in love and solidarity for one another.
All eyes on all Occupies.
SOLIDARITY SUNDAY
Sunday, January 29th – 7:00 PM EST, Meet at Copley Square
Be there.
BOSTON
Copley Square 7PM
NEW YORK
Washington Square Park 7PM
PHILADELPHIA
Love Park 7PM
WASHINGTON D.C.
McPherson Square 7PM
CHICAGO
HQ – Jackson & LaSalle 7PM
LOS ANGELES
Macarthur Park 5PM PST
DALLAS, TX
JFK Memorial 6PM CT
PORTLAND, OR
Justice Center 4PM PST
TAMPA
Voice of Freedom Park 7PM
INDIANAPOLIS
Superbowl Village 6PM
NEW HAVEN, CT
Joining NYC march via train. Washington Square Park 7PM
ORLANDO, FL
City Hall 7PM
Organizing initiatives are underway in
HOUSTON
PITTSBURGH
ALBANY, NY
BUFFALO, NY
BALTIMORE, MD
AMARILLO, TX
If your city would like to organize & join in this call to action, email directaction@nycga.net