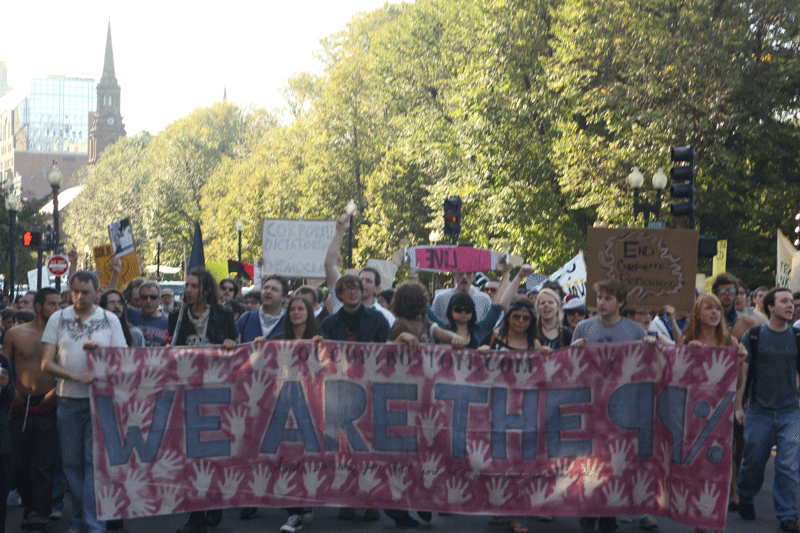 Join us! All marches begin at Dewey Square unless otherwise noted.
Wednesday, October 26 at 1 pm (rally at Dewey at 12 pm) 
The restoration of civil liberties is an essential part of bringing democracy back to America. On Wednesday afternoon we will march in protest of the Patriot Act and the expanding prison-industrial complex. We welcome people from across the political spectrum who can agree that this frightening trend must be reversed.
Wednesday, October 26 at 5 pm 
Wednesday's march has been amended to include a major protest action in solidarity with Verizon workers! Despite reporting huge third quarter profits, Verizon refuses to do the right thing and negotiate a fair and equitable contract with union workers.  This is a perfect example of the corporate greed that the Occupy movement stands against.
Saturday, October 29 at 1 pm 
On Saturday, Occupy Boston will take to the streets in solidarity with occupations across the nation to show support for Occupy Oakland. After enduring several days of brutal police assaults that left the 24-year-old Scott Olsen — a former member of the 3rd Battalion, 4th Marines and a veteran of two tours in Iraq — hospitalized with brain swelling and a fractured scull, Occupy Oakland retook their camp with an incredible show of nonviolent resistance. It is essential that we seize this moment to demonstrate the national and international strength of the movement. When you shoot at us, injure our friends and put our heroes in the hospital, we will respond with an overwhelming display of coordinated nonviolence. We will be peaceful, powerful and clear. From Oakland to Boston, Portland to Melbourne, we will show the world what solidarity looks like.