Over 100 Occupy Boston protesters arrested in massive police crackdown.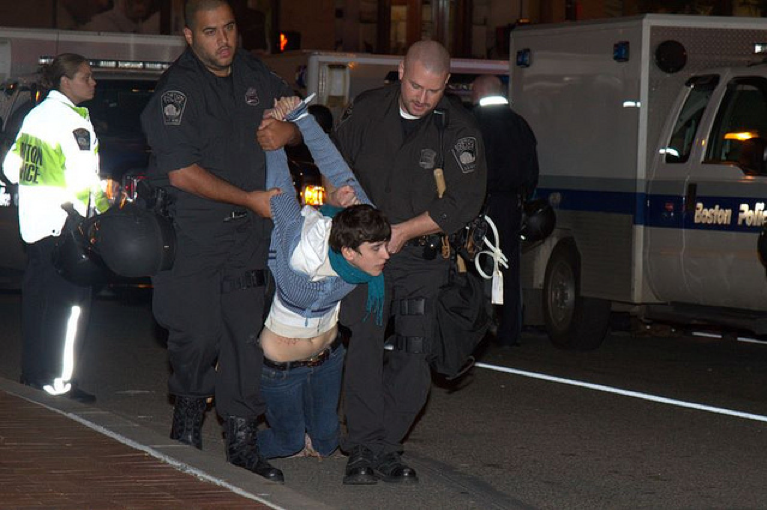 At 1:20 am, police moved in with more than 16 police vans along with police cruisers and unmarked vehicles on Atlantic Avenue in downtown Boston. Officers dressed in black and equipped with plastic handcuffs surrounded part of the camp, protesters were given a five minute warning to leave or be arrested.  Most protesters remained, linking arms with each other and peacefully resisting.  Police moved in and, according to Boston.com, "each protester was individually put on his or her stomach, cable-tied, and dragged off as others tore down tents and arrested and detained people on the fringe of the park."
Eye witness reports and video have come in showing that police dealt violently with members of Veterans for Peace who had come to support Occupy Boston. Other reports are still coming in regarding other instances of police brutality, but remain unconfirmed.
Some street medics, clearly marked with red crosses, were arrested despite repeated requests for medical attention from some of the protestors. One street medic on the scene who was not arrested said that police refused to call EMTs. There have been no reports of pepper spray being used on protestors.
[youtube http://www.youtube.com/watch?v=Iu63e7QD_5k&w=560&h=315]
Photo: police arresting veterans
Boston.com: Boston police move in on protesters on Greenway, scores arrested