Category:
News and Announcements
LET'S TALK ABOUT IT!
Marginalization of Women and Violence in the Left
Saturday, Sept. 15, 10:15 – 1:45 (lunch provided)
Central Square Library, 45 Pearl Street, Cambridge
RSVP requested to bostonsocialistunity(AT)gmail.com
"The Learned Behaviors of a Capitalist Society, Even in the Left"
Boston Liberation Health Group
"The Umbrella of Sexual Violence and How to Be an Active Bystander"
Boston Area Rape Crisis Center
"Violence against Women of Color"
encuentro 5
Examining problems such as marginalization of women and violence is critical to building a strong movement. This requires a collective effort of activists and leaders; we must work together to create the vibrant energy of full community. We must demand better of ourselves and our groups, and we need everyone to be part of these challenging conversations. Join us for an amazing day of learning and reflection in solidarity with women!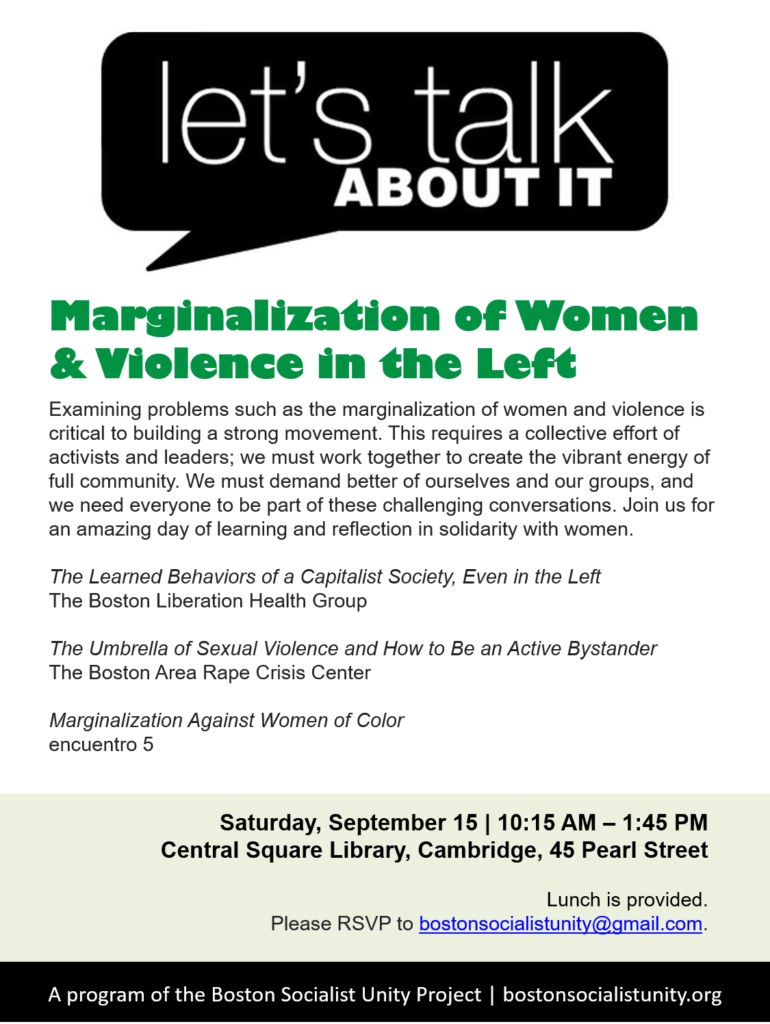 Monday, Sept 3, 11:30 to 6, Campagnone Common, Lawerence MA
As the region's only true Labor Day festival, 34th Annual Bread & Roses Heritage Festival is an open-air arts and music festival honoring Lawrence, Massachusetts' multi-cultural roots and rich labor history while commemorating the most significant event in Lawrence history: the 1912 Bread and Roses Strike. A day of activism and family fun, the Festival boasts 3 stages of socially conscious performances, an array of family activities, rows of community vendors, historical trolley and walking tours, culturally diverse food offerings, educational presentations and more!
SCHEDULE: https://www.breadandrosesheritage.org/schedule
HIGHLIGHTS
Historic Trolley Tours: FREE 50 minute tour of the historic mill town, Lawrence, MA. Departs from City Hall every 30 minutes starting at 12:00pm, with the last trolley at 4:00pm. Get TICKETS in advance at the Friends of Lawrence Heritage State Park tent (these fill up quickly).
Los paseos en trolley con guía en español salen a las 2:00pm, 3:00pm y 4:00pm. Busque su boleta en la mesa de "Friends of Lawrence Heritage State Park."
Historic Walking Tours: FREE. Leaves from the Strikers' Monument on the Common across from City Hall and goes through the mill district, focusing on the Strike of 1912.
Commemoration Ceremony at 11:30AM at the 1912 Textile Workers' Strikers' Monument across from City Hall. Welcome by the Chair of the 1912 Strikers' Monument Committee, the President of the Bread and Roses Heritage Committee, and Mayor Dan Rivera
Celebration of Dreamers and Doers for Social Justice – We will celebrate the accomplishments and ongoing organizing efforts of several local workers' campaigns.
"Hustle and Soul"- A group of young, local creatives present an eclectic multimedia production will take festival-goers on a thought-provoking experience to explore the topics of intergenerational struggles, the immigrant/urban experience, and reimagining the future of the City of Immigrants.
Lawrence History Live! – Historians, workers, and union representatives present their insights into Lawrence's history and today's workers' issues and actions in a centrally located speakers' tent. Lawrence History Live! also includes a Community Forum which offers in-depth discussion of the current housing crisis. Festival visitors are encouraged to participate and contribute their views in a Q&A format.
Community Corner – In the tradition of the labor, free-speech, and civil rights movements, we are providing a soap box, open to all, to step up and have a voice. https://www.breadandrosesheritage.org/soapbox
Family Activities – Family entertainment includes an international food court, pony rides, walking and trolley tours, a magic show, learn about reptiles, and portrait artist Ed Bray. The highly popular Kidz Zone will feature an eclectic mix of arts and crafts by the Lawrence Arts House (La House), a community based expressive arts studio with a therapeutic framework that reclaims art-making as a process for healing. MORE: https://www.breadandrosesheritage.org/familyactivities
Festival on Facebook: https://www.facebook.com/events/2139542119708500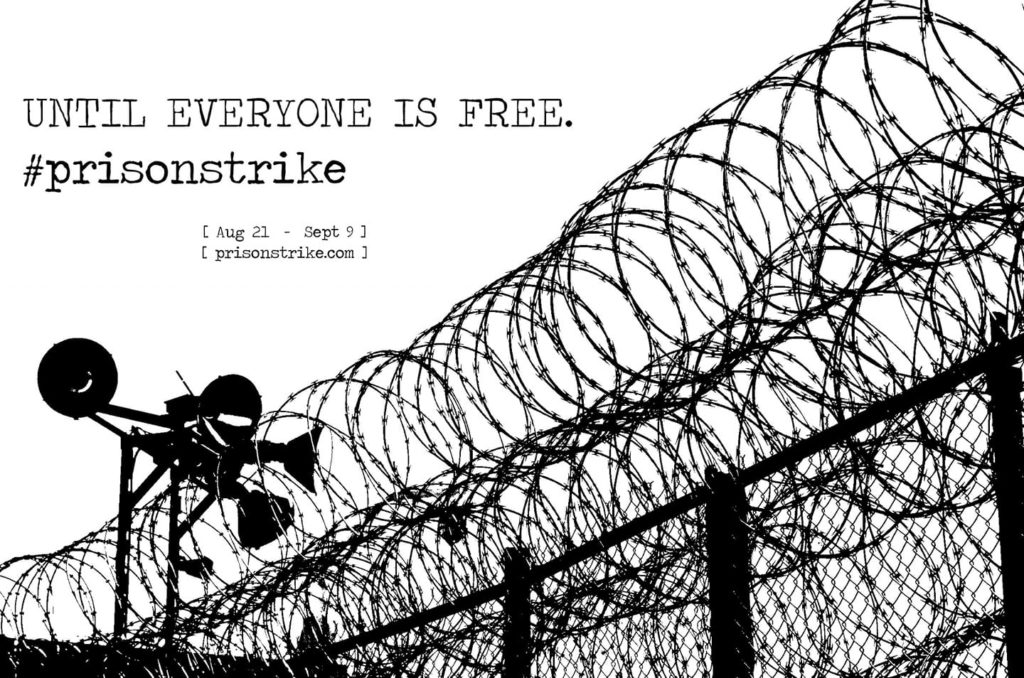 Nationwide, prisoners are going on strike from August 21-September 9, and we will rally in solidarity with them! We also choose the 23rd of this month to spotlight the 23 hours per day many prisoners spend in solitary confinement
We take this moment to build toward abolition and an end to the atrocities our people inside face.
Read endorsements at: deeperthanwater.org/strike
RALLY
Thursday, August 23, 7-8 pm
Suffolk County Jail – on Nashua St (NOT SOUTH BAY)
*nearest T stop: Science Park
Meet by the parking lot at 125 Nashua St
We will amplify the voices of our loved ones inside and send our love to those held captive at the Nashua St jail.
Our coalition is just over 1 year old, and like the prisoner organizers of this strike, our supporters and organizers inside have been subjected to torturous and punitive solitary confinement, re-incarceration, harassment, and more.
We are accepting endorsements for this action! Endorsing means:
– your organization must accept the national strike demands (below) + call for the total end of solitary confinement in any circumstance
– committing to turn out 4-10 (or 100, or 1000…) of your members
– share this event on your email, social media, etc lists
To endorse email: deeperthanwater@protonmail.com
Coalition members:
Black Lives Matter Boston
Black and Pink
SURJ Boston – Showing Up for Racial Justice
Toxics Action Center
PSL Boston – Party for Socialism and Liberation
Young Abolitionists
individual current and formerly incarcerated organizers
Endorsing organizations:
National Lawyers Guild – Massachusetts Chapter
Boston Democratic Socialists of America
FIRE Boston
Workers World Party-Boston
Jericho Movement: Boston Branch
Harvard TPS Coalition
Jewish Voice for Peace Boston
Free Siham
Harvard National Lawyers Guild
Boston Liberation Health
Boston May Day Coalition
—-
Full Strike Demands (http://sawarimi.org/national-prison-strike)
These are the NATIONAL DEMANDS of the men and women in federal, immigration, and state prisons:
1. Immediate improvements to the conditions of prisons and prison policies that recognize the humanity of imprisoned men and women.
2. An immediate end to prison slavery. All persons imprisoned in any place of detention under United States jurisdiction must be paid the prevailing wage in their state or territory for their labor.
3. The Prison Litigation Reform Act must be rescinded, allowing imprisoned humans a proper channel to address grievances and violations of their rights.
4. The Truth in Sentencing Act and the Sentencing Reform Act must be rescinded so that imprisoned humans have a possibility of rehabilitation and parole. No human shall be sentenced to Death by Incarceration or serve any sentence without the possibility of parole.
5. An immediate end to the racial overcharging, over-sentencing, and parole denials of Black and brown humans. Black humans shall no longer be denied parole because the victim of the crime was white, which is a particular problem in southern states.
6. An immediate end to racist gang enhancement laws targeting Black and brown humans.
7. No imprisoned human shall be denied access to rehabilitation programs at their place of detention because of their label as a violent offender.
8. State prisons must be funded specifically to offer more rehabilitation services.
9. Pell grants must be reinstated in all US states and territories.
10. The voting rights of all confined citizens serving prison sentences, pretrial detainees, and so-called "ex-felons" must be counted. Representation is demanded. All voices count!