Plutocracy boardgame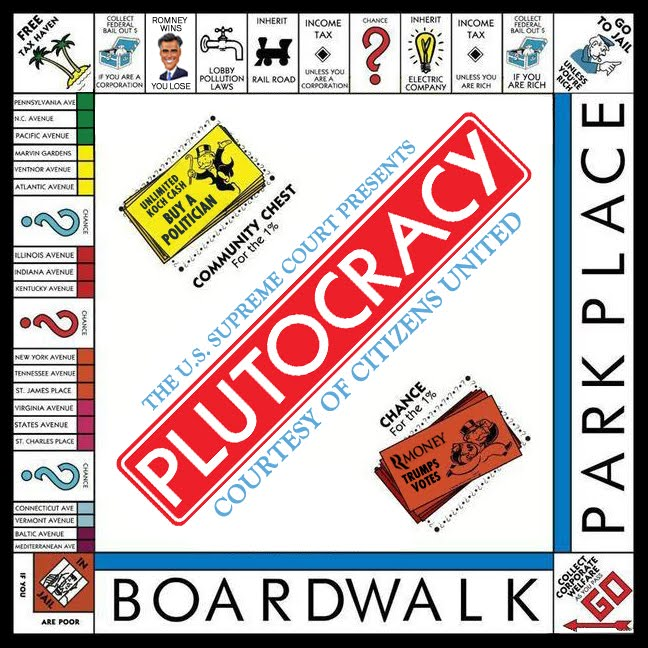 Via
Learning You're Not Elite
If you ever want to see a middle-class person learn first hand and immediately that he or she is not actually an elite, attend an arraignment docket down at the county courthouse and watch defendants brought up on misdemeanors. The poor defendants already know what to expect. They've lived discrimination and they might qualify for the public defender. So they look bored and tired. They're not afraid of because they have no expectations.
But the middle-class defendants will be absolutely bewildered and visibly terrified. They have no idea what they're in for. And the only things they've ever heard or known about our criminal justice system are that it's horrible, and that it's for Other People. Watch them up shaking as they struggle to keep up with that judge reciting from the state criminal code. That's when a lot of people realize they aren't elites. That's when they learn they're Other People too.
Financial Firms Ready 'Crisis Teams' for Greek Election Aftermath
The banks are on high alert. Hundreds of employees at big firms, some part of special teams, will be on standby this Sunday, awaiting the results of Greece's pivotal election. They are preparing for the worst case. The fear is that the vote will heighten the chances of Greece exiting the euro and the global financial system will be shaken when the markets open on Monday.
After being largely unprepared for the extreme stress of the 2008 crisis, large banks in the United States are determined to be ready this time. They have been taking measures to deal with instability in Europe for over a year. In recent months, they have stepped up their contingency planning, especially after it became clear that Greece was struggling to comply with the terms of a March bailout that was intended to keep the country in the euro.
In New York and London, banks have set up dedicated crisis teams, and rehearsed elaborate responses. As clients get nervous, banks have been guiding clients on how to react to a range of situations, from just one country leaving the euro zone to the dissolution of the euro itself.
http://www.cnbc.com/id/47840486
Continue reading "The OB Media Rundown for 6/17/12" »