Category:
News and Announcements
Hand grenade for Hello Kitty.
Niche market for ammunition
Assault weapons swept in on tide of fortune.
Truth rubbing a lie,
"Guns don't kill, people do."
The gun turns and addresses its owner,
"A gun is a product.
A gun embodies the labor of the people who produced it.
The sale of a gun creates profit."
In my minds eye I see the ancient Greeks battling it out.
Bare skinned under an honest sun.
It's when they started talking that things got bad.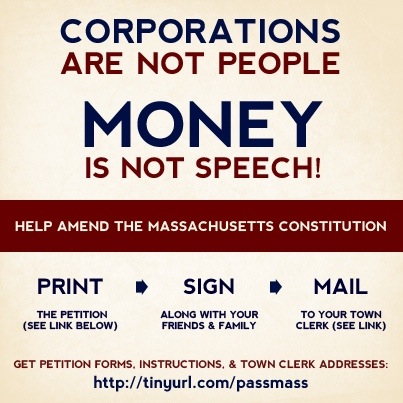 MEDIA ALERT
FOR IMMEDIATE RELEASE
November 9, 2013
PRESS RELEASE FOR THE "PASSMASSAMENDMENT BALLOT INITIATIVE"
BOSTON, MASSACHUSETTS
The PassMassAmendment Ballot Initiative (www.PassMassAmendment.org), is a 3+ year process to ask Massachusetts voters to amend (clarify) the state Constitution to declare:
"Corporations Are Not People, Money Is Not Speech"
Late last year, we began the formal ballot initiative process with a meeting at the Attorney General's office of the Commonwealth. On August 7, 2013, we filed our formal petition. Over the summer PassMassAmendment organized petition teams and allies to engage the public to gather 68,911 valid signatures this September 18th through November 20th.
Hundreds of PassMassAmendment petitioners have been gathering signatures around the state since September 18th, on street corners, in parking lots, in churches, and in meeting halls. Today, PassMassAmendment launches its "print-sign-mail" petition campaign to draw in voters! People who want to sign the petition can print, sign and mail the petition form to town clerks around the state for their signatures to count!
Once enough signatures are gathered, the Amendment will need 25% of two consecutive Legislative Sessions voting in favor, for it to be on the 2016 Ballot. The proposed amendment already has more than 20% of that support in the Legislature.
The formal language, and the legal discussion can be found at: www.PassMassAmendment.org.
Over the last century and more, the people have been losing their influence over our democratic process. We believe that the root of this issue is the corrupting influence of corporations and money on our political process. We have asked our legislators to rectify this. The "Clean Elections Law" passed in 1998 by a 2 to 1 majority by ballot initiative. But our legislators refused to fund it and ended it by voice vote. We have passed resolutions around the state asking our legislators to act to amend the US Constitution to rectify this.
They have not acted. As a result, we believe that it's time for citizens to act. Absent of action by our legislators, we intend to amend (clarify) the Massachusetts Constitution ourselves.
Endorsed by:
U. S. Congressman Jim McGovern, State Reps: Cory Atkins, Ellen Story, Denise Provost, Timothy J. Toomey Jr, Sean Garballey, Jennifer Benson, Carl Sciortino, Jason Lewis, Harold Naughton, State Senators:Katherine Clark, Barry Finegold, Karen E. Spilka (Majority Whip) Other (in order of appearance): Noam Chomsky, Ironworkers Local 7, Occupy Winchester, Greater-Boston Chapter of the Green-Rainbow Party, The Somist Institute (led by Dr Carmine Gorga), Bill McKibben (Founder of 350.org), Cape Cod Move to Amend, Assabet River Valley Chapter of the Green Rainbow Party, Occupy Falmouth, Cathedral Church of St. Paul (Boston),
North Shore Move to Amend.
PRESS CONTACT: Terra Friedrichs 978 808 7173 terraf "at" compuserve dot.com
Due to the situation at Copley Square, the 4pm GA and the 7pm Strike Debt meetings will both be tentatively rescheduled for the following Sunday. We will have to re-evaluate whether Community Church will be re-opened next week. Updated information will be posted to this website. Hope everyone is safe and having a nice weekend.
Correction: GA and Strike Debt Meetings will NOT be held on Sun 4/28. The next GA will be Tues May 7. The next Strike Debt meeting will be announced soon.