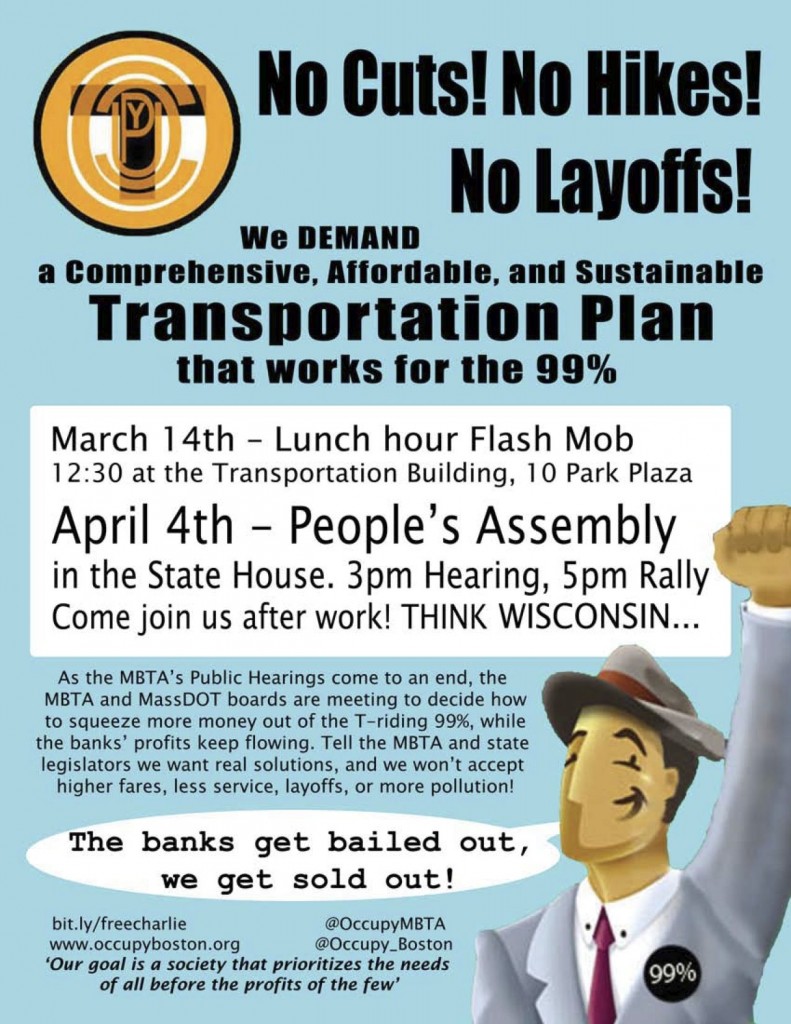 Meet March 14th at 12:30 PM at the Transportation Building, 10 Park Plaza, Boston
As the Massachusetts Department of Transportation meets to discuss the fate of the MBTA, we'll be rallying outside and inside the meeting to demand:
No service cuts
No fare hikes
No layoffs
No privatization of our treasured public transit system.
A comprehensive state-wide plan for affordable and sustainable transportation that works for the 99%.
For years, the Commonwealth of Massachusetts has failed to fund public transportation adequately, and forced the MBTA to borrow exorbitant sums.  Now the MBTA is trying to balance its books on the backs of those who can afford it the least.  Drastic fare hikes, service cuts, and layoffs will devastate students, seniors, low-income communities, people of color, workers and everyone who must rely on the T.  The MBTA's proposals will also force between 55,000 and 92,000 more cars on the road each day, creating traffic nightmares, and 50,000 tons of additional carbon dioxide emissions per year.
For weeks, outraged T riders have packed public hearings to say no to MBTA's ill-conceived and damaging proposals.  It is critical that we keep the pressure on as the Board meets for the first time after the hearings.
Join Occupy the MBTA, along with other advocates for seniors, low income communities, workers, and the environment, on March 14th! For more information visit http://occupymbta.org/
Save the Date: April 4th – People's Hearing on Transportation in the State House
3 pm Hearing and 5pm Rally Come after Work! (Think Wisconsin)
As the MBTA's Public Hearings come to an end, the MassDOT boards are meeting to decide how to squeeze more money out of the T-riding 99%, while the banks' profits keep flowing. Tell the MBTA and state legislators we want real solutions, and we won't accept higher fares, less service, layoffs, or more pollution! We need a transportation plan for the whole state that works for the 99%.  Join us as we take our message to the State House as part of the National Call to Action on Transportation.
Download flyers in: