*FOR IMMEDIATE RELEASE October 10th, 2011*
Contacts: OccupyBostonMedia@gmail.com
Twitter: @occupyBOS_media
We Will Occupy
On Monday, October 10, 2011, 10,000 people marched from Boston Common to Dewey Square to the North Washington Bridge in support of Occupy Boston and to demand fundamental and lasting economic and political reform.. At the same time, Occupy Boston expanded to an adjoining section of the Rose Kennedy Greenway Conservancy to accommodate the many hundreds of people who come daily to join the occupation. This peaceful expansion was undertaken to make a place for everyone in our movement.
At approximately 18:00 the Boston Police Department informed Occupy Boston that if they did not clear the site by nightfall, they would be forcibly removed. In response, Occupy Boston has issued a renewed call for any and all people to join the occupation as soon as possible. From the beginning, occupiers have worked tirelessly to maintain a positive working relationship with city officials. Today's threats by the Boston Police Department represent a sudden shift away from that dialogue. Since making camp on September 30, Occupy Boston has maintained that it will non-violently resist any attempt to end the protest before we have achieved the change we seek.
The outpouring of public support demonstrates that Occupy Boston's message of bringing economic reform to Wall Street and ending the influence of special interests on government. This message has resonated nationwide. According to a recent poll by Rasmussen, 79% of Americans agree with the occupiers that "The big banks got bailed out but the middle class got left behind." Rasmussen also reported that the movement boasts higher favorability ratings than Congress or the Tea Party.
Occupy Boston stands united with over 120 similar Occupy protests, which have sprung up across the nation since Occupy Wall Street began just over three weeks ago. We seek the restoration of the social rights to housing, healthcare and education. We demand an end to the endemic, international corruption of our legislative bodies by corporate interests. Speaking only the words we have been taught, we ask for freedom, justice, and equality. We will be satisfied with nothing less.
"We are the 99 percent and we are no longer silent."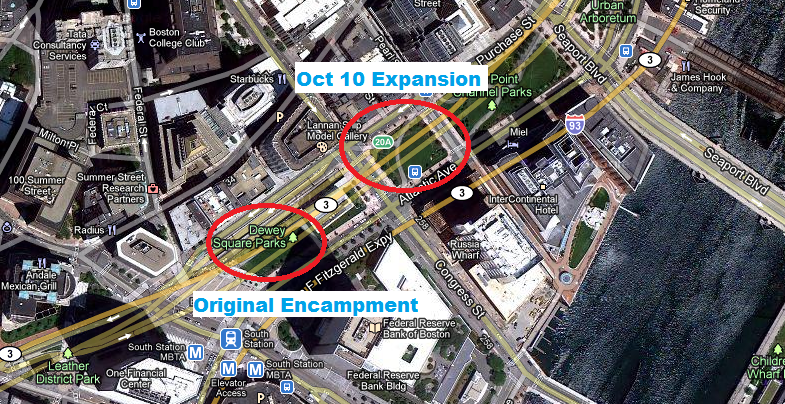 ###
Occupy Boston is the beginning of an ongoing discussion about reforming Wall Street and removing special interests from government. The continuing occupation of Dewey Square (outside South Station) is just one of more than 120 separate Occupy encampments in cities across the nation and a symbol for "Occupiers" everywhere who support real and lasting change. Video: http://youtu.be/ZpttXetMX78.
–